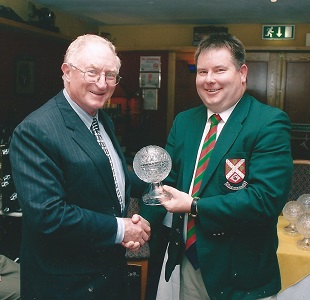 The medals of the late Mayo All-Ireland winning footballer Dr Pádraig Carney were presented to the county by his son, Cormac, on Wednesday 26 April in the Library and Cultural Centre in Swinford,  where they will be displayed. A photographic exhibition there will showcase his career as a Mayo footballer. Cormac Carney, Pádraig youngest son, said:" my siblings and I are delighted that our father's medals  will return home to Mayo for all to see". Bernard 0'Hara, a good friend of Padráig's for over 40 years, said that he "is delighted with the foresight and generosity of the Carney family to keep their father's medal collection together in the town where he grew up".
Pádraig Carney, 'The Flying Doctor' who passed away in Southern California on 8 June 2019 at the age of 91, was perhaps Mayo's best ever Gaelic footballer, in my opinion the greatest, and one of the all-time greats in the history of the game. He wore the green and red senior jersey of Mayo with distinction from the age of seventeen in 1945 until his emigration at his prime in March 1954 at the age of twenty-six. After qualifying as a doctor in 1951, Pádraig married Wexford-born Moira McCabe, a member of his UCD medical class, on 14 October 1953, and he was as determined to succeed in medicine as he had on the football field. Their decision to emigrate caused consternation in the county and shock throughout the country. The 1950s Ireland was a decade with few opportunities and massive emigration. Mayo had qualified for the National Football League semi-final prior to Pádraig's emigration and the Mayo County Board brought him back from New York for that game against the favourites Dublin on 25 April 1954. After completing a day's work on Friday evening, he left New York for the then twelve-hour flight to Dublin. He captained Mayo the following Sunday to a thrilling 0-11 to 0-7 victory, scoring seven points. It was his finest hour in the green and red and he was once again 'sports star of the week'. Micheál Ó Hehir, the wonderful commentator, immortalised Pádraig that day as 'The Flying Doctor'. Pádraig was brought back again for the 1954 League final, where he once again led Mayo to victory. Mayo County Board told him that they could win the 1954 Connacht championship without him to save money, but that they would bring him home for the All-Ireland semi-final and final, such belief. However, Galway and the great Séan Purcell had other ideas and they defeated Mayo in the Connacht semi-final. That was the end to his football career with Mayo. We can never forget the joy that Mayo team of the late 1940s and early 1950s brought to the people of this county during a very bleak period in its history.
       Pádraig Carney won every honour in Gaelic football: two All-Ireland back-to-back senior football medals in 1950 and 1951, four Connacht senior medals 1948, 1949, 1950 and 1951, two National League medals 1949 and 1954 and one Connacht Minor, 1946.  In addition, he won three Sigerson Cup medals with UCD in 1945/46, 1947/48 and 1949/50 and was captain in 1947-48. After playing for the Combined Universities in 1948, 1949, 1950 and 1951, he was selected for the Rest of Ireland against the Combined Universities in 1952 and 1953.  He won a Railway Cup medal with Connacht in 1951, as well as two Mayo senior football championship medals with Castlebar Mitchels in 1951 and 1952 (while working in the County Hospital) and a junior championship medal with Charlestown Sarsfields in 1953 (while serving as a doctor in Charlestown).  
Pádraig Carney was not selected on the team of the century, or the team of the millennium; in both cases he was nominated against Seán Purcell (1928-2005) at centre forward and because of the latter's long and distinguished record there was only going to be one winner there. With all players on the millennium team included in the newly established GAA Hall of Fame in 2000, Pádraig Carney was nominated to the GAA Hall of Fame in 2001, the first year two new players were to be nominated each year (the other nominee was Jack O'Shea of Kerry). This indicates how close he was to selection on the team of the millennium, and the result would be the same regardless of who was nominated against Seán Purcell. A postage stamp (30p/38c) was issued in Pádraig's honour on 5 September that year. He was selected at centre-field on the Connacht team of the Century in 2000, when all positions were keenly contested except for centre-forward where there was only one sole nominee, Seán Purcell of Galway, who was widely regarded as the best player of the twentieth century. Pádraig Carney was selected on the Sigerson Cup (for universities) team of the Century in 2011 (the only other Mayo player selected was Seán Flanagan). He was inducted into the Western People Hall of Fame in February 2005. The above is an incredible list of football achievements for a career that ended at the age of twenty-six.
        Pádraig Carney was outstanding in most games, and really excelled in many, including the 1948 Connacht final replay against Galway. He was playing centre-field against his great rival, Séan Purcell, which many people regard as the two greatest displays ever seen on a football field in Connacht. Pádraig Carney scored nine points that day in Mayo's 2-10 to 2-7 victory.  James Laffey in his excellent book, The Road to 51: The Making of Mayo Football, stated:
"The Swinford man was still only 20 and knowledgeable football men in the county were already saying they had never seen anything like him…. The nine-point salvo in the Connacht final replay propelled Carney's burgeoning reputation through the stratosphere. The finest young footballer in the country had been revealed in all his splendour. And he was wearing a Mayo jersey. The famine of the Forties was officially over."
Seán Flanagan, captain of the Mayo 1950/51 team, in a tribute in 1979 said:
"Pádraig Carney was gifted, fearless and at his best majestic. He combined great strength with the most delicate touch and gained more possession than any of his contemporaries. Of his greatness there is not and never will be any doubt and he is deservedly a legend!"
 Bernard O'Hara said:
"It is wonderful to have the medal collection of this football legend in Swinford. I would like to compliment Cormac Carney and his siblings, Brian, Terence and Sheila, and all ten grandchildren in the next generation, for their foresight to keep all Pádraig's medals together and for their generosity in presenting them to County Mayo. It is an act of exceptional generosity having regard for the esteem in which he is held by his own family.  It has been decided to place the medals with a photographic collection in Swinford Library, in the town where Pádraig grew up. Here they will be treasured as long as Gaelic football is revered in this county, and, hopefully, that will be forever."