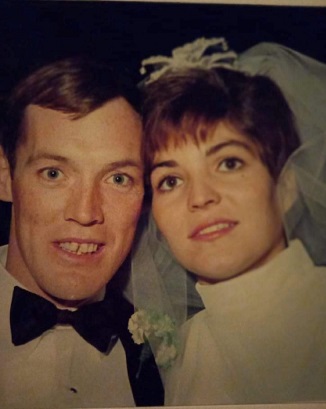 The sudden death of Pádraig Maye on 31 January 2021, following a stroke, shocked everyone who had the privilege of knowing him. Always a gentleman, with an engaging pleasant personality, and modest in regard to his numerous achievements, Pádraig was affable, kind and caring in thought, word and deed, who greeted everyone with a warm smile. His presence radiated happiness. He was a wonderful selfless human being, a loyal son, a devoted husband, an exemplary father, a loving grandfather, and a friend to everyone who knew him, as well as a teacher, Gaelic footballer, handballer, and a renowned competitive track-and-field athlete. He will be greatly missed way beyond his own family, with all holding treasured memories of him.
Pádraig was born on 1 May 1940, the eldest son of Patrick (Pake) Maye and his wife Nancy (Nance, née Egan) from Castlerock, and grew up in Aclare, County Sligo. I find it hard to adequately express my huge admiration for Pádraig from his early years. As first cousins on the Egan side, my mother and Padraig's mother were great friends; my mother rarely passed through Aclare without calling in to see Nance. I recall Pádraig's name with great affection for as long as I can remember. He became my early idol and always remained so. I was present when Pádraig won his first ever medal at Killasser Sports in 1952, for the 100 yards under-fourteen sprint. He brought me to my first inter-county football games in the late 1950s.
Pádraig attended Kilmacteige and Castlerock primary schools before going to St Nathy's College in Ballaghaderreen in September 1954, a place then with very strict rules, which were a big shock to him. Our huge pride in him continued when he was a member of the St Nathy's senior football team that qualified for and won the All-Ireland Hogan Cup final on 14 April 1957 in Croke Park, while in his intermediate year (now the junior certificate). With his neighbour Éamon O'Hara as captain, they had a great campaign and defeated St Colman's of Newry in the final by 1-7 to 0-4. Seven members of the winning team came from Sligo and the rest from Mayo. The following year, St Nathy's lost to St Jarlath's of Tuam, who went on to win the Hogan Cup. In 1959, St Nathy's defeated St Colman's College, Claremorris, St Jarlath's, and St Enda's, Galway, to win the Connacht title, with Pádraig playing at centre-field. They defeated C.B.S. Newry in the semi-final, before losing the 1959 final to St Joseph's, Fairview, Dublin, in a game they could have won. St Nathy's were leading by a point and playing well with about ten minutes left in the game when they missed a penalty. A goal then could have decided the game in their favour. However, St Joseph's gained a new confidence and went on to win by 3-9 to 2-8 in what Peadar O'Brien described the following day in The Irish Press as 'a thrilling victory'. One of the highlights of the game was the contest between Pádraig and the precocious Des Foley, then not alone a Dublin senior footballer but also a Leinster Railway Cup player. In St Nathy's, Pádraig won three Connacht Colleges' medals in athletics, and was chosen as the best all-round athlete in the college for both 1958 and 1959. I followed his days playing senior football for Sligo and Tourlestrane with great interest, before he went to Nigeria in 1963, going with him to games on a number of occasions. He was a member of the Tourlestrane senior team that qualified for the 1960 county final, where they all had an off day and lost to Ballysadare.
After going to University College Dublin (UCD) in September 1959, I followed his illustrious athletics career there in the newspapers, especially The Evening Press. I recall one photograph of him retaining the Leinster long jump title in 1960 at 7.2 metres, while competing with a broken arm in a cast, an injury sustained that morning playing football. He won the All-Ireland junior and senior long jump titles in 1960. However, his mother was not too impressed by those newspaper reports as he was named as Pádraig Maye, UCD. I heard her say several times: "why do they not get it right and put down Aclare instead of UCD?" She had a big collection of cuttings from papers about his sporting career, which she showed me several times.
After graduating with a BA degree in 1962 and a Higher Diploma in Education in 1963, Pádraig went on a two year contract to teach for the SMA Fathers in Nigeria, which was extended to three, a year that led up to the start of a civil war in that country. We exchanged many letters during that time. While his experience was interesting, he often recalled his fear of mosquitoes and contracted malaria twice. After a stint in London, he went to Chicago in 1966 for a short visit; Nance always said that he was offered a job in Banada, and she wanted him to take it. I lost touch with him in Chicago because his mother kept talking about him coming back. Every conversation included a reference to Pádraig coming back. We now know that he liked the place and met Dublin-born Terry O'Shea, who had emigrated with her family to Chicago as a child. They were married on December14, 1968, in St Clement's Church, Chicago, and later two beautiful daughters, Coleen and Erin, were born. While teaching in 'the windy city', Pádraig completed a master's degree in guidance and counselling. In Chicago, he won twelve football medals from 1966 to 1980. The short trip was extended, and extended. However, Nance always believed and hoped that he would come back to Aclare because she knew that he would be happy there. She had great foresight! When they arrived in 1980, people were comparing Terry with Jacqueline Kennedy! Pádraig started teaching in Banada Abbey secondary school in September 1980, and soon earned a reputation as a good and dedicated teacher of history, geography and English. He was held in high esteem by his students, their parents, and colleagues. When Banada closed, he moved to their new school St Attracta's in Ballyara. He retired from teaching in November 2004.
With regard to sport, it has to be appreciated that Pádraig did not compete in any Irish athletic competition from 1962 until 2001, when he resumed his career with Ballina Athletic Club. This intensified following his retirement up to the end of the life, leading to incredible achievements that will not be equalled. After that, he won numerous All-Ireland medals in ten different athletic events, chiefly the long jump, the high jump, the triple jump, javelin, the shot put and 100m sprint. In his distinguished athletic career, he won 171 Irish national medals (first, second or third), 31 British Open Masters' medals, 48 Ulster Open medals and numerous other trophies. He was All-Ireland over 60s long jump champion in 2001, shot put champion in 2002, second in the high jump 2003, second in the javelin 2003, and went on to excel in these competitions for over 60s, 65s, 70s and over 70 until 2019. In that year, he won three All-Ireland gold medals in over 75 age group for the long jump, high jump and javelin, as well as silver medals for the shot put and weight throwing. This all came to an end in March 2020, when COVID-19 arrived in the country. In May, 1993, he received the Merit Award as the Best Connacht Athlete in the O'Duffy Cup over the previous fifty years (that was an annual athletics contest, now defunct, between competitors from Ulster and Connacht). In both 2011 and 2012, he was named as 'Mayo Athletic Association Masters' Track and Field Athlete of the Year', and later received several other special awards. No short tribute can do justice to all his athletic achievements.
He had a lifelong interest in handball and enjoyed playing in all the local alleys like Banada, Ballymote, Castleconnor, Charlestown, Cloonfinish, Killasser, Collooney, Cully, Swinford, Sligo, and Kilmacteige. He won four All-Ireland handball titles, the Emerald title in 1998,the Diamond Masters' singles in 2000, as well as the doubles title that year with his neighbour Séamus O'Donnell, and in 2010 won the masters 'A' title with Paddy Walsh. He also won four All-Ireland runner-up awards in handball.
Pádraig made a huge contribution to his local community in many ways, including video recordings with numerous people about their memories and life experiences, as well as co-editing (with Marie Fleming and Daniel Jones) two books on local history and heritage, Kilmactigue Parish: History and Memories, volumes 1 and 2. He loved his own place, and believed that local stories should be recorded for posterity, which he did, establishing a big invaluable collection. I was fortunate to make a short visit to Pádraig and Terry during Christmas week in 2020, of course with elbow greetings, masks and social distancing because of COVID-19. I received copies of the recently published Kilmactigue Parish: History and Memories, volume 2 that day. After reading it over the Christmas period, I rang Pádraig in mid January to compliment him on it. We discussed a number of its fine articles. He asked me was there anything I would like to see in volume 3. I said perhaps a profile of Mick Christie and one on renowned singer Tommy Fleming. After recalling that Mick Christie from Castlerock was a great footballer who played not alone for Sligo but for Connacht in 1948, 1950, and 1957 when the standard in the province was the highest in the country, he asked me to write the profile of him. I declined because I did not know enough about him as he was well before my time, but that I heard many sing his praises and he should be remembered. This was to be our last conversation. Pádraig was the last person I expected to get a stroke, but that is life. As Irish Nobel laureate William Butler Yeats wrote in 'The Municipal Gallery Revisited':
'Think where man's glory most begins and ends,
And say my glory was I had such friends'.
Our sincere sympathy to his widow, Terry, daughters Coleen and Erin, his eight grandchildren, Kayla, Alana, Aiveen, Conor, Caoimhe, Cora, Rory, Gavin, and his great granddaughter Éire Jane, his son-in-law Seán, Erin's partner, Patrick, as well as his other relatives, especially his brothers, James (Chicago), Milo (Aclare) and Willie (Raphoe). It has to be some consolation to his family at this difficult time to know how much he was admired and loved. No words of mine can adequately express my admiration for him. May he dwell in the Lord's house forever and ever.
Ar dheis Dé go raibh a anam dílis. Ní bheidh a leithéid ann arís.
(Bernard O'Hara, formerly from Killasser, is now living in Salthill.
In addition to his other publications, he is the author of a trilogy on his native parish,
Killasser: A History,
The Archaeological Heritage of Killasser, County Mayo,
Killasser: Heritage of a  Mayo Parish,
as well as editing : St John's School, Carramore, Killasser, 1913-2013.)