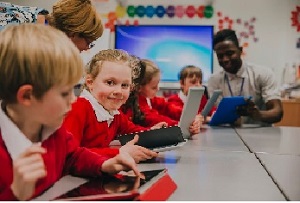 A new Primary School Curriculum Framework was launched in Ireland on March 9, 2023, by the Minister for Education, Norma Foley. Developed by the National Council for Curriculum and Assessment (NCCA) after several years of consultation, it sets out 'an overarching vision', principles and components for the new curriculum, designed to prepare pupils to adapt in a rapidly changing world with digital technology, artificial intelligence, climate challenges, and continuous change. Work is underway to develop the specific content, but no date has been announced for its full implementation.
It builds on the current curriculum introduced from 1999, which has six main areas: languages (English and Irish), mathematics, social, environmental and scientific education, arts education, physical education, social, personal and health education. That curriculum is designed to develop a pupil's ability to learn independently, to question, think critically, solve problems and develop good inter-personal skills. There is a big emphasis on doing. It emphasises numeracy and literacy, as well as science, technology, citizenship, social, personal and health education. A new religious education programme is also provided. The White Paper on Education, Charting Our Education Future (1995) enunciated State policy in relation to primary education:
Each child is entitled to an education and learning environment, which facilitates the nurturing of her/his educational potential, in all its richness and diversity. All schools should aim to create such an environment for their students, to the greatest extent possible. The school environment should be a caring one, in which each child's right to a joyful and safe childhood is guaranteed at all times.
It went on to state that the curriculum is based on the following principles in accordance with this child-centred approach:
The full and harmonious development of the child, with due allowance made for individual differences;
The central importance of activity and guided-discovery learning and teaching methods,
Teaching and learning through an integrated curriculum and through activities related to the child's environment.
The proposed new framework has five broad areas: a language in addition to English and Irish; science, technology, engineering and maths (STEM); wellbeing; arts education, social and environmental education. The major changes are the introduction of a language in addition to English and Irish for an hour a week from third class, and an increased emphasis placed on STEM subjects with three hours per week in the junior years to four hours from third class. The proposed curriculum also aims to aid pupils wellbeing, and support their social, emotional, and physical development, as well as the promotion of active citizenship. Religion is changed to 'religion, ethical and multi-faith education', to provide pupils with a wider perspective on faith beliefs.
Education and training for all walks of life are now a life-long process, 'a journey and not a destination'. While qualifications can be passports to various occupations and careers, competence and high performance require continuous learning. Learning is not confined to formal schooling: it is a continuous process from a wide range of sources, family, peers, general social interaction which is important for emotional intelligence, the media in general, social media, libraries, the internet and personal life experiences.
A good primary education is very important for everyone as it lays the foundation for future development. A positive interaction between teachers and students, in a spirit of love, mutual respect, wonderment and exploration, has a huge influence on young lives. The objective now is the creation of a joyful, carefree, and enriching educational experience, which fosters a love of learning, self-esteem, wellbeing, imagination, creativity, and high expectations, thus facilitating the holistic development of the potential of all pupils and preparing them to become productive, participative and responsible members of society.